Furr-ocious Felines: The Purr-fect Cat Collection!
A downloadable asset pack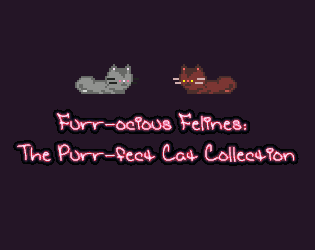 Who isn't looking for a bunch of adorable and intense kitties for some side-scroller action, right? Well if you are, then I've got some friends I'd like you to meet.: twelve purr-fect little kitties that also have a wild side!
First though: lets talk about the pack...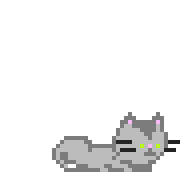 This pack contains:
Twelve versions of a highly animated cat.
Each cat has the following animations:

Idle Standing (8 frames)
Running (8 frames)
Laying Watching (8 frames)
Laying idle (8 frames)
Stalking (8 frames)
Drinking/Lapping (8 frames)
Sitting Idle (8 frames)
Washing (8 frames)
Begging/Press (8 frames)
T-Rexing (8 frames)
Ground Pawing (8 frames)
Jump (8 frames)
Jump to climb transition (8 frames)
Climb (8 frames)
Attack (4 frames)
Hurt (4 frames)
Die (8 frames)

The cats are made in a 48x48 grid and are 22 pixels high (normal cat stand).
Now that's out of the way why don't you meet my furr-ocious friends? Obviously, once you adopt them, you can give them your own names and personalities, but my 6yo daughter and I have had much fun in naming these, so please indulge our whimsical fantasy!
Dawnbringer:

Always full of energy. Dawnbringer wakes up early each day to go out and hunt. His favorite thing in the world is jumping around after birds! Don't let his fat belly make you think he's not a capable hunter: that fat belly comes from a lifetime of meat eating!

Canyfloss:

Candyfloss looks like an angel but is mischievous as a devil. No tasty treat is ever safe from this climbing critter. She used to be a housecat, but learned to climb out of the windows and is often found sitting at the top of large trees.

Buttercup:
Buttercup is perhaps the most sleepy kitty of the bunch, and is always looking for somewhere comfortable to nest down! Will offer her belly to any human willing to stroke it!
Pastel:

Pastel is known amongst the cats as 'the clever one'. She can use paws to open any door and is adept at begging for food. Tango says that she's more human than cat.
Strawberry:

Strawberry is playful as they come! When she's not running around chasing butterflies she's walking around like a human. Her red coat was obtained through eating too many prawns and Nest calls her the flamingo cat.
Tango:

Tango isn't fussy when it comes to food or drink, and will often stop along the journey to sample something that looks too good to pass up! He's absolutely brutal when it comes to insults, but rarely gets into a real fight.
Vanilla:

Vanilla likes to keep her white coat in pristine condition, and spends a lot of time grooming. Some of the other cats find her precocious, especially Mossy!
Mossy:

Nobody known if Mossy was always green or whether his splendid color comes from all the playing in the undergrowth. Either way, this is a kitty that hates a bath!
Zodiac:

Zodiac likes to watch the world go by from a resting position. He's the oldest cat of the bunch and deserves his extra flomping time!
Rusty:

Rusty grew up in an old junkyard, which explains his permanently rust infused coat. He's a sneaky little one and a bane to all small creatures. All the other cats think he has a soft spot for Strawberry!
Nest:
Nest and Stan come from the same litter, and Nest is definitely the more crazy of the two. She's always getting into scraps, usually to protect little Stan.

Stan:
Stan is a quiet little cat that usually prefers to hide in his sister's shadow. That doesn't mean he's unliked however. none of the other cats have ever had anything bad to say about this precious kitty!

----------------------
Terms of use:
Can be used commercially or non commercially.
Can be edited.
Credit is not required.
Cannot be resold as assets.
Cannot be used in blockchain activities,
Purchase
In order to download this asset pack you must purchase it at or above the minimum price of $15 USD. You will get access to the following files:
Cat-Dawnbringer.png
12 kB